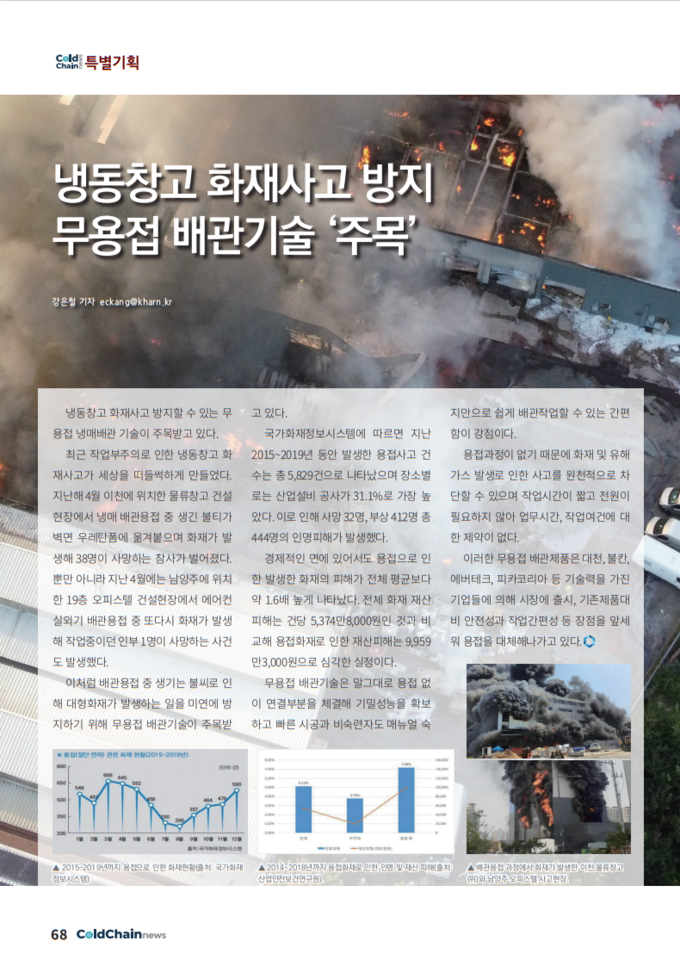 The connecting piping technology not required welding that can prevent fire accidents in refrigeration warehouses is drawing attention.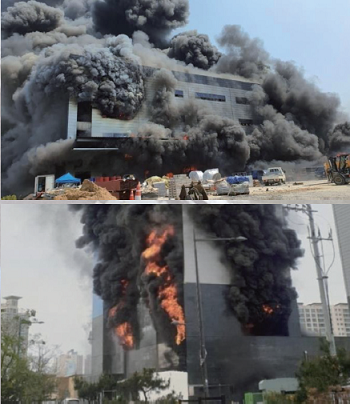 ▲ Icheon city Logistics Warehouse(above) and Namyangju city officetel accident site where a fire accident broke out during pipe welding.
A recent fire accident in refrigeration warehouse caused by careless work has shocked in Korea. In April last year, a fire broke out at a logistics warehouse construction site in Icheon city when a spark is transferred to urethane foam on the wall while worker welded refrigerant pipes, killing 38 people. In addition, in April, a fire broke out again during welding pipes for an air conditioner outdoor unit at a 19-story officetel construction site in Namyangju city, killing one worker who was working.
As such, non-welding connection piping technology is drawing attention to prevent large fires from occurring due to embers generated during pipe welding.
According to the National Fire Information System, a total of 5,829 welding accidents occurred between 2015 and 2019, and by location, industrial facility construction was the highest at 31.1%. This resulted in a total of 444 casualties, 32 deaths and 412 injuries.
Number of fire caused by welding from 2015 to 2019 (Source: National Fire Information System).
In terms of economics, The fire damage caused by welding was about 1.6 times higher than the overall average. The property damage caused by welding is 99.593 million KRW, compared to the total fire property damage of 53.748 KRW million per case.
Casualties and property damage from welding fires from 2014 to 2018 (Source: the Korea Occupational Safety and Health Research Institute (OSHRI)
The strength of non-welded connection piping technology is that it literally secures higher sealing ability by connecting pipes without welding, and it is easy for non-skilled people to construct pipes by being only acquainted with manual.
There is no welding process. So, accidents caused by fire and harmful gas can be fundamentally blocked, and there are no restrictions on working hours and working conditions because the working time is short and electric power is not required.
These non-welded joints have been released to the market by companies such as Daechun, Vulkan, EVERTECH Corporation, and Parker Korea, replacing welding with advantages such as safety and simplicity compared to existing products.